From the selection of raw materials to manufacturing , Asia Cable has strictly supervised. Engineers are in strict accordance with national standards for each cable scientifical design and supervision. Also, our technicists check every step carefully and repeatedly to make sure cables with great quality when delivered to every customer.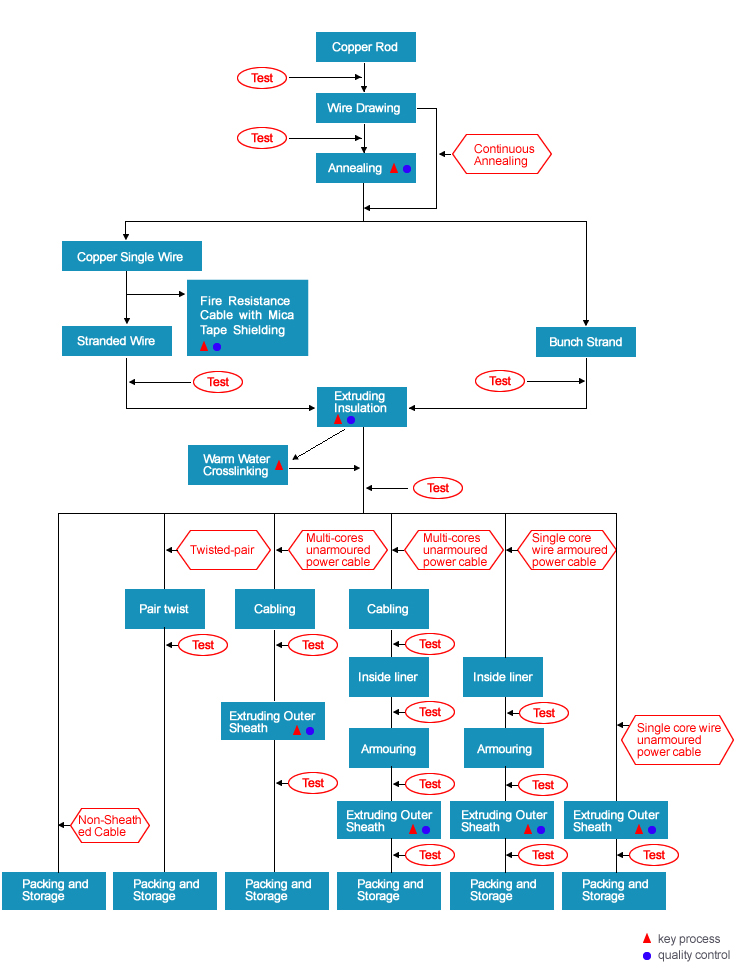 Asian Electric Appliances & Cables Technology Co., Ltd divides every steps into small movements which can be completed by machine. By introducing domestic and foreign high-tech production lines and use of the patented technology, we have greatly improved the pressure resistance of the cable and surface finish. In order to provide lifelong guarantee for every cables, Asia Cable, from selecting raw material to running every single step, carefully checks every aspect of cables.
1Drawing Process

Introducing Niehoff drawing process production line to make sure every cable manufactured by Asia Cable meets international standards.

2Roping Process

Asia Cable employs the advanced tubular stander, frame-type strander and other stranders, and invites cable engineer to instruct in the workshop.Therefore, we can guarantee the conductor is with even outer diameter, stable structure and tight arrangement.

3Insulation Process

Both safty and environmental-friendliness are the standard requirement to cables.Therefore, the raw materials used in line are with EU standards and the use of DC driver system and automatic drying equipment, central control system , matched with the 35kV high voltage spark test , in order to make sure every wire is with good insulation and security.

4Finishing Process

Automatic equipment can avoid damage and distortion during the whole process of manufacturing. And every single test of product can ensure every wire meet the criteria of market.

5Packaging Process

Cutting, looping, rolling, tagging, filming can be completed automatically. Changing rolling and filming separately into integration. Products match with package!